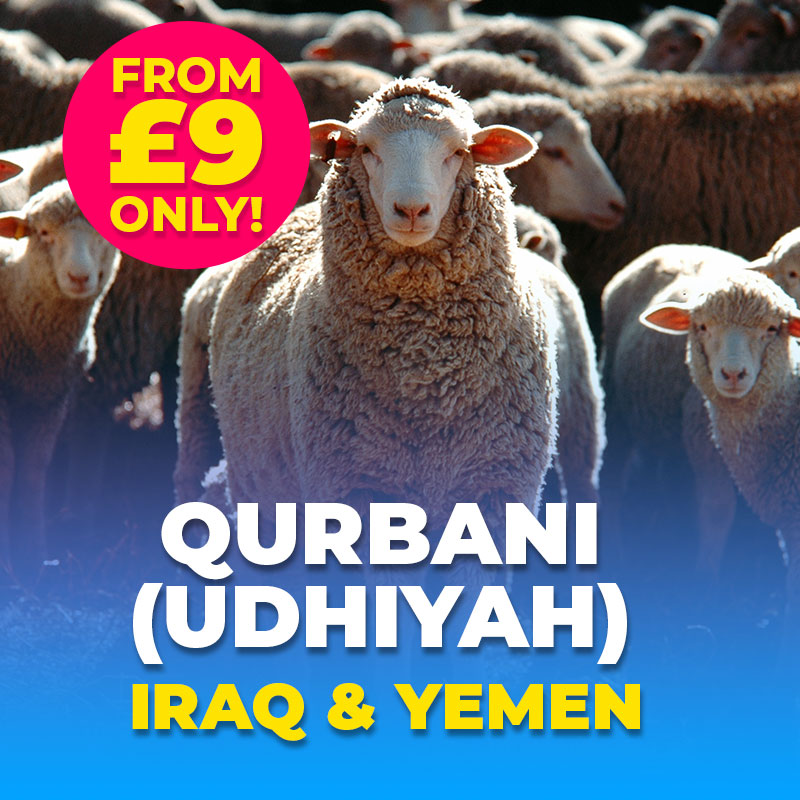 In the religion of Islam, the sacred tradition of Qurbani is an act steeped in significance – it also has a positive practical impact by feeding the poor and needy.
The Prophet Ibrahim a.s. was instructed to sacrifice his son Ismail to God in a dream. When Ibrahim told Ismail about the dream, they both agreed to submit to the will of God. Ismail lay to be sacrificed for the sake of God.
As Prophet Ibrahim a.s. was preparing to sacrifice his son, God called down:
"O Ibrahim! You have done my bidding and now you will be rewarded!"
Allah SWT sent an alternative sacrifice instead of killing Prophet Ibrahim's son.
The word Qurbani means sacrifice. As Muslims, we reflect upon the remarkable sacrifice the Prophet Ibrahim a.s was willing to make for the sake of God. Every year in the Islamic month of Dhul Hijjah, Muslims around the world slaughter an animal to reflect this sacrifice. This meat is then distributed to the poor.
Giving Qurbani is obligatory for every Muslim who is financially able to do so – it also means that you can share the joy of Eid Al-Adha with those in need around the world. Your Qurbani is an excellent way for you to honour the commitment of Prophet Ibrahim a.s.
Because of the pandemic and ongoing conflicts in Yemen and war-torn Iraq, it has been an intensely difficult year for vulnerable families in these countries. The pandemic and conflict has deepened the poverty levels significantly. In Iraq, poor families are finding it challenging to make ends meet.
Similarly, in Yemen, 80% of the Yemeni population was already at risk of hunger and disease pre-Covid-19.* With the spread of coronavirus and the conflicts, it is hard to imagine what the situation is like now in both countries.
Your Qurbani meat will be distributed to orphaned families and to those who are in desperate need including the most vulnerable and impoverished groups. Our volunteers on the ground will find those most in need to donate your Qurbani meat to.
The Qurbani will bring great joy on Eid Al-Adha to the poor and needy in these war-torn countries. You can donate your Qurbani through Noor Orphans Fund, safe in the knowledge that your donation will go towards those who need it most.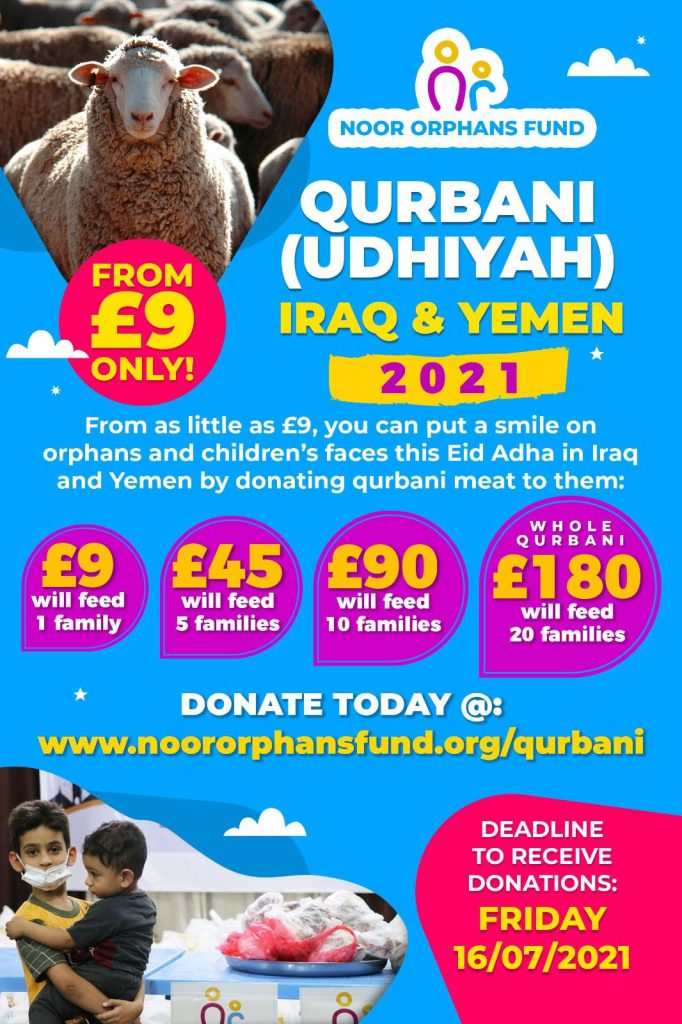 www.noororphansfund.org/qurbani
*Based on an article by Global Citizen